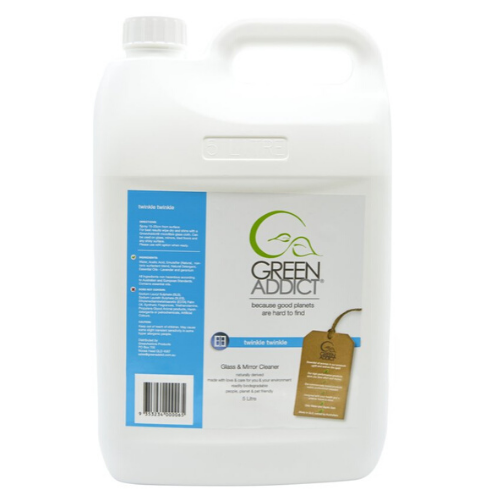 'Green Addict' glass & mirror cleaner
---
PROFESSIONAL GLASS CARE: Are you finding fingerprints, streaks, and smudges spoiling the appearance of your mirrors, glass tables, windows and rear vision mirrors in your car?  Then It's time to take the lead from the top eco friendly professional cleaners! This commercial grade glass and mirror cleaner was made to deep clean all types of glass to perfect clarity.

ANTI-STREAKING FORMULA: This glass and mirror cleaner was designed to eliminate streaks and keep them off! Achieve that transparent clean consistently with this natural glass and mirror cleaner!

DISINFECTANT: All too often we use window cleaners that only remove dirt but Twinkle takes it one step further. This window cleaner will effectively eliminate 99.9% of all germs and bacteria that sit on the surface of your glass or windows!

ALL-NATURAL FORMULA: Made with all-natural and sustainable ingredients, making this window cleaner safe for use around your children and pets.

EASE OF USE: Simply spray on, and wipe off in a circular motion with our glass microfiber cloths!

100% SATISFACTION GUARANTEED: Naturally derived, non-toxic, hypoallergenic, vegan, gluten-free, biodegradable; Certified Cruelty-Free by Palm Oil Investigations + Vegan Association of Australia. Never Tested on Animals; Made in Australia!
---
---
---
Share this product
---
---