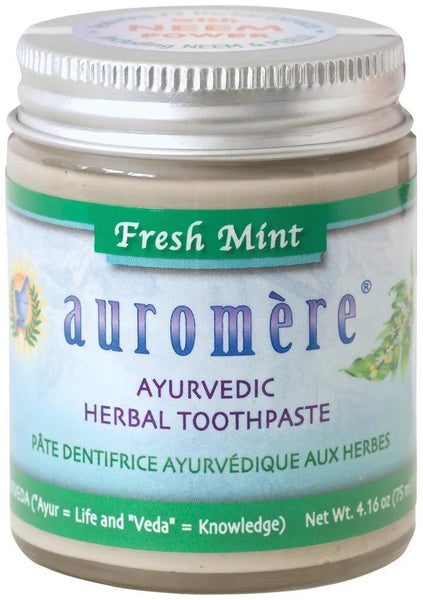 Ayurvedic herbal toothpaste
---
Auromere Ayurvedic herbal toothpaste in a jar
ECO-FRIENDLY, FLUORIDE FREE & 100% NATURAL AYURVEDIC HERBAL TOOTHPASTE IN A JAR - FRESH MINT
This refreshingly cool, highly effective Ayurvedic toothpaste by Auromere is expertly crafted using the natural fibre PEELU, the astringent and invigorating properties of NEEM, and enriched with 23 other barks, roots, plants and flowers which have been esteemed for centuries by Ayurvedic specialists for maintaining optimum dental hygiene. With an amazing blend of botanical extracts and essential oils, this natural toothpaste will freshen your breath and leave teeth feeling squeaky clean!
Made using 100% natural & organic ingredients
Contains 23 herbal extracts for optimum oral hygiene
Refreshingly cool, clean minty taste
Absolutely no fluoride, dyes or any harsh chemicals
Comes in a glass jar, with a wooden spoon for easy use.
Recyclable zero-waste, eco-friendly packaging
Non-GMO, vegan friendly, gluten-free & cruelty-free
This toothpaste is made using a super-concentrated formula, so each jar lasts 3x longer than an ordinary tube of toothpaste.

Size: 117g Jar
Ingredients: Fine Chalk (a Gentle Cleanser), Glycerin (from Vegetable Oil), Water, Herbal Extract Blend: [Organic Neem (Azadirachta Indica), Peelu (Salvadora Persica), Indian Licorice Root, Pomegranate Rind, Common Jujube, Rose Apple, Clove, Persian Walnut, Barleria Prionitis Bark, Indian Almond, Bedda Nut, Asian Holly Oak, Prickly Ash, Zanthoxylum Alatum, Sappan Wood, Catechu, Bengal Madder, Acacia Arabica Bark (Babul), Sarsaparilla, Cinnamon, Medlar Bark, Mayweed, Bishop'S Weed], Silica, Sodium Coco Sulfate (From Coconut Oil), Chondrus Crispus (Seaweed Extract), Peppermint Oil, Spearmint Oil, Eucalyptus Oil, Cinnamon Bark Oil, Menthol, Thymol, Anethol, Potassium Sorbate (Potassium Salt), P Thymol (from Thyme Oil).
---
---
---
Share this product
---
---