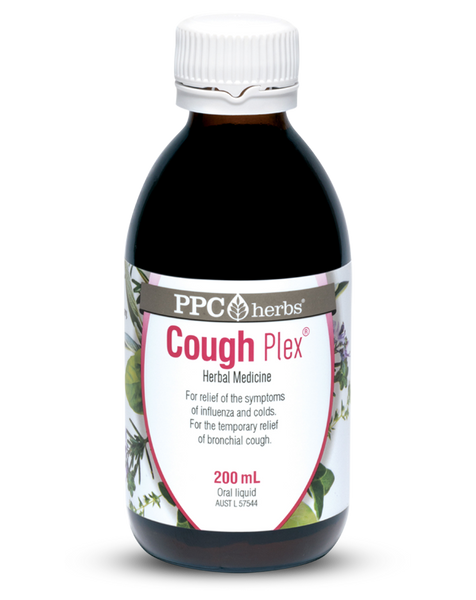 Cough Plex 'PPC Herbs' 200ml
---
For the temporary relief of bronchial cough and the symptoms of cold and influenza.
Each 5mL contains extract liquid equivalent to dry:
Horehound leaf, Marrubium vulgare 1000mg
Liquorice root, Glycyrrhiza glabra 1000mg
Sage leaf, Salvia officinalis 250mg
Thyme leaf, Thymus vulgaris 250mg
Ginger root, Zingiber officinale 10mg
DOSAGE
Adults
2-5mL three times daily
Children
3-12 years: 1-3mL three times daily
Not to be used in children under 2 years of age without medical advice
IMPORTANT INFORMATION
Duration of use
A maximum of 3 weeks continuous treatment only. If symptoms persist or worsen, talk to your healthcare practitioner.
Directions for use
Shake bottle well before use. Can be diluted with water, fruit juice or other fluids if necessary.
Interactions
Information not available. Talk to your healthcare practitioner
Shelf life
36 months from date of manufacture
Storage Conditions
Store below 30°C
Cautions
Safety during pregnancy and breast feeding has not been evaluated.
WARNING
NOT FOR CHILDREN UNDER TWO YEARS OF AGE. USE ONLY AS DIRECTED AND TALK TO YOUR HEALTHCARE PRACTITIONER IF SYMPTOMS OR COUGHING PERSIST. CONTAINS ETHANOL. USE ONLY IF CAP SEAL IS UNBROKEN. Store below 30°C
---
---
---
Share this product
---
---