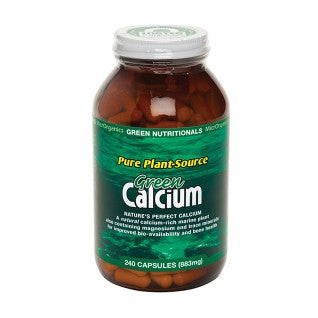 Green Calcium 'Green Nutritionals' 60 Capsules
---
A unique wholefood source of natural calcium, GreenCALCIUM is an organic marine plant (Lithothamnium calcareum) naturally rich in natural rich in elemental calcium, magnesium and 72 other trace minerals crucial for optimum calcium absorption and bone health.
GreenCALCIUM contains 34% elemental calcium and has a unique porous 'honeycomb-like' structure and the large surface area that allows for greater absorption and utilisation of calcium in the body.
What is

 

GreenCALCIUM?
GreenCALCIUM is made using 100% organic Lithothamnium calcareum marine plant from the South West coast of Ireland and the North West coast of Iceland that contains 34% elemental calcium and 72 other trace minerals.

After a five-year life span spent absorbing essential minerals from the Atlantic waters, this calcium-rich plant calcifies naturally and settles on the sea bed from which it is sustainably harvested, taken ashore and washed, dried and crushed.
Nothing else is added.
As only the mature/aged material is harvested - not the live young plant, sustainability is assured.
The Lithothamnium calcareum marine plant regenerates itself continuously, so there is no interference with its renewal process.
GreenCALCIUM is harvested in Ireland and Iceland under strict ISO 9001-2000 certification, is Organic, Kosher and Halal Certified and GRAS Approved. This makes GreenCALCIUM the perfect calcium supplement for all people, including Vegetarians and Vegans.
Unlike inorganic calcium products on the market, GreenCALCIUM offers a range of minerals from a single natural source. This, together with its porous matrix structure giving the material a massive surface area, makes it highly bio-available - in other words the body easily absorbs the nutrients. The spectrum of minerals work in synergy, so the overall health benefits are enhanced.
MORE THAN JUST CALCIUM
Although GreenCALCIUM is an excellent source of plant calcium (1 level teaspoon provides over 950mg elemental calcium), it is really a multi-mineral complex. It provides 72 other trace minerals, all contributing to bone health and general well-being.
Minerals such as magnesium and zinc are essential minerals and are present in GreenCALCIUM together with trace minerals such as boron, iodine, selenium and strontium. These minerals are all absorbed naturally by the live marine plant from the clear, cold pollution free, mineral rich Atlantic waters and the presence of these trace minerals in GreenCALCIUM contribute to the high bio-availability of the calcium in our bodies.
Typical Nutritional Analysis
| | | |
| --- | --- | --- |
| Average Quantity | Per 100g | Per 2.8g serve |
| Energy | 105kj | 3kj |
| Calories |  25 | <1 |
| PROTEIN | <1g | <0.1g |
| Fat - Total | <0.5g | <0.01g |
| - Saturated Fat | <0.5g | <0.01g |
| - Carbohydrate | <4g | <0.01g |
| - Sugars (as glucose | <1g | <0.02g |
| Sodium | 425mg | 12mg |
| CALCIUM | 34,000mg | 952mg |
| MAGNESIUM | 2,500mg | 70mg |
| STRONTUM | 195mg | 5.4mg |
| BORON | 1.55mg | 43mcg |
| SILICON | 102mg | 2.8mg |
| IODINE | 3.3mg | 92mcg |
| POTASSIUM | 496mg | 13.9mg |
| IRON | 67mg | 1.9mg |
| PHOSPHOROUS | 23mg | 644mcg |
| SULPHUR | 331mg | 6.2mg |
| MANGANESE | 2.2mg | 62mcg |
| ZINC | 1mg | 28mcg |
| CHROMIUM | 97mcg | 2.7mcg |
| SELENIUM | 100mcg | 2.8mcg |
| TITANIUM | 1mg | 28mcg |
| COPPER | 193mcg | 5mcg |
| VANADIUM | 1mg | 28mcg |
| 57 Plant Trace Minerals (total) | 13g | 364mg |
---
---
---
Share this product
---
---