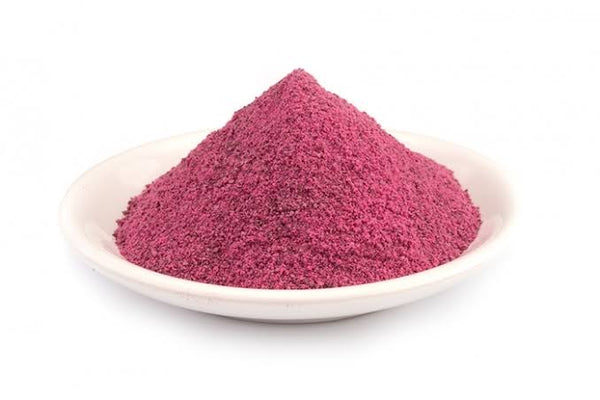 Organic blueberry juice powder
---
Blueberry powder is made from natural blueberry fruit. Both freeze dried and spray dried blueberry powders are available.
Freeze dried blueberry powder is made with vacuum freeze drying technology. The process includes freezing the fresh fruit under low temperature in vacuum environment, lowering pressure,removing the ice in frozen fruit by sublimation, crushing the freeze dried fruit into powder and sieving the powder through 80 mesh.
Spray dried blueberry juice powder is made through the process below, crushing and juicing fresh fruit, concentrating the juice, spray drying with a hot gas, collecting dried powder and sieving the powder through 80 mesh.
Blueberry powder contains various vitamins and minerals, anthocyanins. It has antioxidant and anti-aging properties, and it is helful to enhance immunity, improve eyesight, lower cholesterol levels, improve memory and bone health.
Blueberry powder has natural blueberry taste and great purple red color, you can add it to your baked products, icecreams, cheeses, cakes, milk shakes, smoothies and many other products, to improve the taste and appearance of the products. You can get OEM and private label service from our company, so that you can easily retail the powder in small packages with your logo and design.
---
---
---
Share this product
---
---