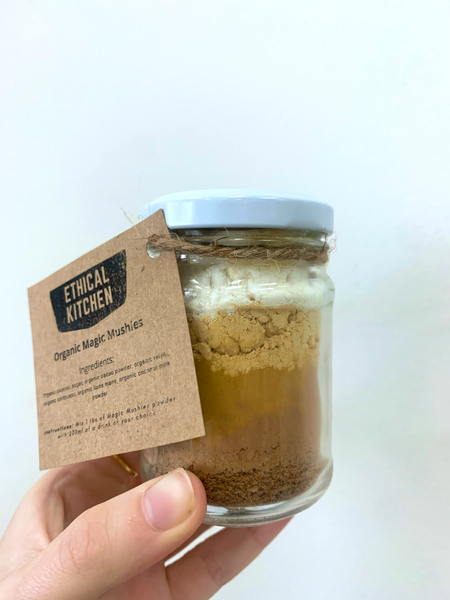 Organic Magic Mushies
---
The benefits of mushrooms have been respected and utilised by some cultures for centuries. These magical blends are created with 100% organically sourced organic coconut sugar, organic reishi, organic cordyceps, organic lions mane, organic coconut milk powder. 
Choose the right powder for you, are you looking for that chocolatey fix, try our Magic Choccy Mushies. Feeling tired try our Magic Buzz Me Mushies. Feeling stressed out? Give our Magic Stress Less Mushies a try. Experiencing inflammation? test out our Magic Anti-inflammatory Mushies!
Simply mix 1tbs of our Organic Magic Mushies powder with 250ml of a drink of your choice. 
Lions mane can greatly improve cognitive performance, memory, clarity, REM sleep. It can also tonify your brain and nerve tissue. Cordyceps can boost athletic performance, has anti-aging properties, may help manage type 2 diabetes, poses possible benefits to heart health and can help fight inflammation. Reishi can help with sleep, anxiety, depression, and focus. 
---
---
---
Share this product
---
---