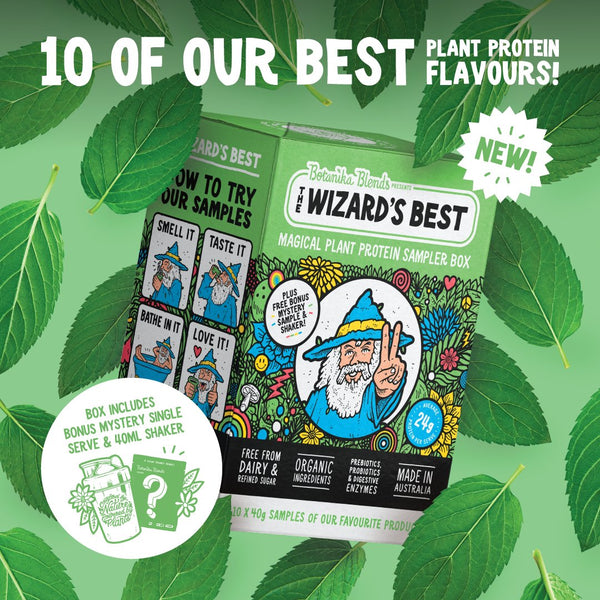 Wizards Best Plant Protein Sampler Box 'Botanika Blends' 10 x 40g
---
The Wizards Best Bundle
The best way to try all of The Wizards famous Plant Proteins.
This magical box contains 10 mixed samples of our super popular vegan protein. A perfect way to try a variety of flavours in sample size before committing to a larger size bag! You also get a free shaker & mystery sample. 
Our Plant Protein is made using Organic Certified protein, it's free from dairy, gluten and refined sugar. We don't add any artificial flavours, colours or sweeteners either and keep it 100% natural. We're good for your guts, with added prebiotic fibre, digestive enzymes and a unique vegan probiotic.
Each individual flavour is unique and different and you'll never get bored of trying the same thing over and over with a huge selection to mix up your smoothie creations.

We're sure you'll find a winner, enjoy the most craziest delicious flavours on the planet!
The Wizard Box changes from time to time, at this moment you'll receive the following:
Cacao Hazelnut 40g
Cacao Mint 40g
Caramelised Popcorn 40g
Custard Cinnamon Donut 40g
Double Shot Coffee 40g
Golden Chai Latte 40g
Apple Pie 40g
Coconut Raspberry 40g
Blueberry Pancake 40g
Lemon Cheesecake 40g
400ml Shaker
& ONE MYSTERY ITEM! 
ALLERGEN STATEMENT: THE MYSTERY SAMPLE IN THIS BOX MAY CONTAIN ALLERGENS SUCH AS TREE NUTS, PEANUTS AND GLUTEN. THE REASON FOR THIS IS THE MYSTERY SAMPLE MAY BE OUR PROTEIN BAR WHICH CONTAINS NUTS OR BREKKY WHICH CONTAINS OATS.
The Wizard box is an awesome gift to introduce someone to vegan friendly & dairy free protein!
Manufactured On Equipment That Also Produces Products Containing Dairy, Gluten, Peanuts, Egg, Fish, Tree Nuts, Soy and Sesame
---
---
---
Share this product
---
---